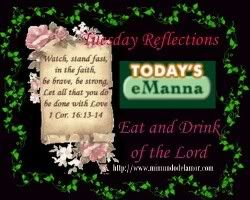 I have random posts every Tuesday, posting only what comes into mind. However, after the reflections on the happenings of our today's environment, I decided that I would post my

reflections on the word of the Lord

every Tuesday of the Week. To make this a double digest, I decided to make this a meme and would call it , "

Tuesday eManna

". To know what is Manna , know it

here

.

Word for Today:
And He will wipe away every tears from their eyes and death will be no more nor there will be no sorrow or crying or pain anymore ; for the former things have passed away...(Rev.21:4)
Praise the Lord for the word of the Lord. Truly in the new heaven and new earth there will be full satisfaction and rest; there will be no more cause for tears. Death which is an element of the enemy will be wholly swallowed up by life and will be cast into the lake of fire, in the new heaven and new earth there will be no more death. How we need to be today's overcomers, overcoming the degradation of earth today and living for the eternal goal which is the new heaven and new earth- the NEW JERUSALEM.. Amen
If you are joining don't forget to sign on the Mr. Mcklinky below with the link of your own post so I would be able to visit your posts and enjoy the Lord's words. You can also put the Mcklinky in your own post, just follow the instructions so you can get the code. Thanks for sharing along.