Gosh, I almost forgot the challenge. Silly forgetful me. LOL. Good thing that I was able to visit
Alicia's entry
on the challenge that I have been reminded.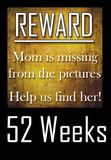 As I say, I decided to participate in this year-round challenge hosted by
Carin of Forever In Blue Jeans
. The goal of this challenge is for us moms to have at least one photo with the children once a week. Do you want to challenge yourself too? Join us
here
.
So here's my photo with my little girl. I have to stop here from reviewing just to take this photo.
Look at her, she is complaining on why do we have to take more than one photo.