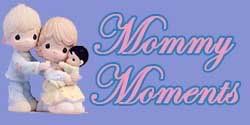 This Friday's Mommy Moment's theme is NAME GAME. It would be about our kids and the meaning of their names. I love this theme as I have my children's name especially prepared even before they were born. I am so particular when it comes to naming my kids. I love names which speaks of depth. Names with special meanings that I hopefully wanted to be impressed and expressed by my children. So here with go.
Let's begin with my Eldest to the Youngest:
This is
Kuya
, the eldest. Name is
ALJODON DAVID
. I named him such as I love the meanings of these names.
Aljodon

- its meaning is "old one, elder" David derived from Hebrew דוד (dvd) meaning "beloved".
The Whole Name: The Elder Beloved.. The eldest beloved One


Now, is Cocong, the second son which name is
AL'JERED NICOLAS
. The name is well thought of me also.
Al'jered

-

From the Hebrew name יָרֶד (Yared) or יֶרֶד (Yered) meaning "descent".
Nicolas- meaning is "victorious people".


The whole name: Descendant of the victorious People..
Alikah

-meaning is "noble, exalted nature".


Arienh

- Means "most holy"


The whole Name: Noble, Exalted Nature and descendant of the Most Holy One



And now, I'm gonna have a new baby. I am already thinking of names for him too.
Here are the names that I've been looking at:



L

ael

J

oseph

- meaning:

Lael

- belonging to God;

Joseph

- May Jehovah add/give increase.



L

ysander

J

adrien

meaning:

Lysander

- One who Brings Liberty;

Jadrien

- Blend of Jay, Jade and Adrien



L

ois

J

edaiel

- meaning:

Lois

- better;

Jedaiel

- knowledge, of God

It's really wise to give a thought to the meanings of our names. My name's meaning is even beautiful too. How about you? What are the meanings of your kids' names. Please share with us here at
Mommy MOments.