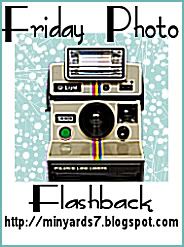 Yay!!!
Friday Photo Flashback
again hosted by
Alicia
. A wonderful corner to showcase pre-digital photos that holds thousand precious memories. I love this meme so much.. Have not joined yet? Visit
Here
and put your posts links at the Mr. Linky so we can enjoy your old photos too.
OUR BABIES WILL REMAINS BABIES IN OUR HEARTS..
It is a reality that if we could, we will hold on to the idea that we could freeze the time and let our babies be babies for longer. Having a baby is like falling in love again, both with your husband and your child. Though we have number of sleepless nights and tiring days, it's always a joy to take care of them. They are the tiniest thing we ever decided to put our whole life into.
Having babies is fun, but babies grow up into people.
They are growing so fast that one day they will be starting to have their own family. We will miss the times when they were so bubbly and cuddly. There would be times when they will start to feel shy whenever we kiss them on public. They will simply grow and quit to be babies.
You have a lifetime to work, but children are only young once. But as a mother, though they may grow up to be great people someday, they will remain babies in my heart. I will remain their loving mother and will be here for them till my last breath.

So now, my flashback would be my babies' old photos.. I like to cherish them and remember them while they were so young and fragile.


My second son, Al'jered Nicolas when he was only months old. I love this photo as I miss him feeding from my breast. He is my only child who has been breast-fed by me.
This is Alikah, when she was only about 2 mos old. Now she is 4 years old.
For my eldest sorry I have no scanner now to scan his baby photo. But if I have a chance I'll show it to you. He was a premature baby, only weighing 2 lbs when I gave birth to him. The Lord has raised him to be a fair young man today. Aljodon is 10 years old now.
Kuya Aljodon (we call "kuya" for the eldest/older boys in the family) here is 2 years old plus with Al'jered 1 year old plus.