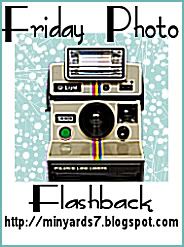 Friday Flashback once again. Time to dig our album and scan those photos which brings a lot of old memories. Thanks to
Alicia
again for hosting this wonderful meme. Play with us along and share what you got there.
I can remember well how my two boys grew up without any other playmates than themselves. We used to live in a house where there was no neighbor. But the two of them got along well and were happy with each other's company when they were little.
My father bought a pedal-jeep for them to ride on and play. Kuya Aljodon (eldest) was the first driver as he was already nearing two year old that time while Al'jered was only months old. They drove and drove around inside the house.
When they were about 4 and 3 year old respectively , I bought them their first big bike and it was the first time Al'jered tried on ride and drive a bike. Kuya Aljodon had a kiddie bike (the one with plastic wheels-for babies) , but Al'jered was afraid to try it on.