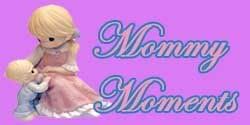 Friday again, another
Mommy Moments
. Praise the Lord for His mercies ever new. The Lord has been faithful in providing all the needs of our family. This week's theme for MM is all about
our kid's tantrums
. Kids can be so fuzzy and cranky and their moods have a lot of swings.
Talking about tantrums, I have loads of it from my daughter. She is the kind of girl who's mood changes dramatically. She loves to get all the attention. If you failed to give it to her, she will start making your head achy and achy and achy. You may wonder why I always feature my daughter here in MM and less occasions talking about my boys. Pardon me for that , it is not what you think. You might say the girl is my favorite.
Of course I love all my children
. It just so happen that my boys did not grow with me and do not stay with me but with my mother in the province. That is why I have little to tell about them.
Back to tantrums, I have not taken a lot of photos of her with those , but she certainly has a lot of them..
and this as she did not want her outfit.. , "I don't like this Mama, take it off from me"
and here, she did not want to put on clothes as she was annoyed with her yaya..
How about your kids? Do they have a lot of tantrums too? Join us at
Mommy Moments
and share their stories with us.
Note:
This was composed last week. I was so advance in topic, that when I saw at Mommy Chris post about mall trips , I suddenly make a new entry.LOL..