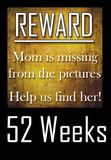 The Challenge is on again.. It's Thursday! As I say, I decided to participate in this year-round challenge hosted by Carin of Forever In Blue Jeans. The goal of this challenge is for us moms to have at least one photo with the children once a week. Challenge yourself now. Join us here.
Whew!! Glad that I accidentally managed to have one photo this week. Forgive me I am just in the background almost. LOL.. At least, there's still my face in the corner.
There we go.. Daddy and daughter were showing their big mouth, while I am at the background feeling sleepy.