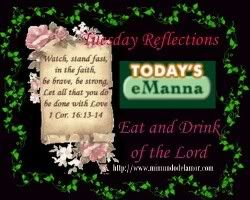 I have random posts every Tuesday, posting only what comes into mind. However, after the reflections on the happenings of our today's environment, I decided that I would post my

reflections on the word of the Lord

every Tuesday of the Week. To make this a double digest, I decided to make this a meme and would call it , "

Tuesday eManna

". To know what is Manna , know it

here

.
Word for Today:
For the love of money is a root of all evils, because of which some, aspiring after money , have been led away from the faith and pierced themselves through with many pains.


1Tim 6:10



Paul does emphasize the fact that none of the believers should be under the bondage of wealth. We should not be bound by riches in any way. Rather, the slavery of riches must be nullified. We are not for riches; riches are for us. We must be free from our material possessions and use our riches for the fulfillment of God's purpose.
Of course, as human beings, we need money in order to live. But we never should be enslaved to money. Money should not be our master. Rather, money should be under our management and should be used for God's purpose. If money is not under our control and if it is not used for God's purpose, then we shall be enslaved to it. As a result, we shall not be able to enter into the kingdom of God.
May we be impressed with the truth that the best way to handle our married life is to take Christ as our replacement and to experience His death and resurrection. Likewise, the best way to keep ourselves new, fresh, and young is to take Christ through His death and resurrection. Furthermore, the best way to handle our money is Christ with His death and resurrection. The only way to handle these things properly is to be replaced by Christ through His all-inclusive death and His wonderful resurrection.
If you are joining don't forget to sign on the Mr. Mcklinky below with the link of your own post so I would be able to visit your posts and enjoy the Lord's words. You can also put the Mcklinky in your own post, just follow the instructions so you can get the code. Thanks for sharing along.