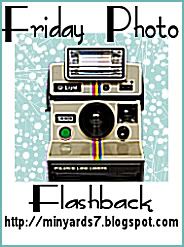 Praise the Lord for another Friday! Time to showcase our old pre-digital photos which brings a lot memories. Glad that
Alicia
is hosting again. Got many of them? Why not hit the scanner and share it with us by playing along.
INITAO CAVING YEAR 2002

When my children were only two back then and I was younger, I enjoyed a lot of outdoor activities with friends. I remembered in the year 2002, we went to Initao Cave, a cave located in one of the regions of Mindanao specifically, Initao, Misamis Oriental.
U
nusual species of bats with cauliflower-like noses can be found in this cave. This is the only region in the country where you can find these animals and perhaps unique in the whole world, are found here.

I enjoyed the trip a lot as I remembered a lot of crawling for us to get through the small passages of the dark, cold and wet cave. I was even scared that I couldn't get out.. But of course I did!! LOL.. The experience was great and I miss doing it now that I have an additional girl and one coming this December.... Besides I am now a busy working mother doing work and at the same time taking care of my family. That's why these pictures are priceless for Me!!!


There's me coming out from the small hole. Good that I have fitted.. LOL
Though it was dark I still managed to get a pose, great that the flash was working!
These were my great friends.. I miss them a lot..
Wish I could do it again one of these days!!!