I am helping a friend in organizing her coming wedding. I took charge of looking for items for the wedding give-aways. I am thinking of
edible wedding favor
for a change. A lot of wedding give-aways are mostly figurines and some collectible items. What I suggested is something unique but not despicably expensive. Something in style with a unique package and appropriate ribbon that matches their wedding motiff. How about if we get
wedding cookie favor
with chocolate chips that are so addictive. It can come in a stylish and decorated jar or even in ribbon-wrapped plastic bag. If not cookie, we can opt to
candy wedding favor
. You see candy is sweet and a meaningful representation for the life of the couple which is meant to be sweet. Hmmm, I am in a dilemma in choosing which of which. Can you help me please?



Which of which among the two please?

By the way, got another award from
Ruby
. Thank you mommy Ruby for this award, it is greatly appreciated. I have received this award from Phebie and Lynn too last week but it still feels nice to be recognized by blogger friends over and over.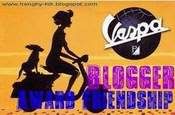 The rules are so easy:
1. Place the logo / banner on your blog.
2. Add a link to the blog who gave the award.
3. Nominate at least 7 other blogs.
4. Add links to the blogs that you have nominated.
5. Let them know by leaving a message (shout) on their blogs.
Now , I am passing this award to all my friends out there who never fails to support me. To you who is reading now , this award is for you cause your friendship means a lot to me. Have a nice day!!! Happy Blogging!