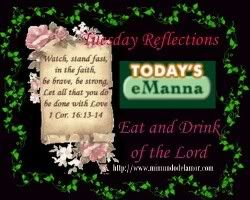 I have random posts every Tuesday, posting only what comes into mind. However, after the reflections on the happenings of our today's environment, I decided that I would post my

reflections on the word of the Lord

every Tuesday of the Week. To make this a double digest, I decided to make this a meme and would call it , "

Tuesday eManna

". To know what is Manna , know it

here

.
eManna for Today:
(41)

And He sat down opposite the treasury and watched how the crowd cast money into the treasury. And many rich people cast in much.


(42)

And one poor widow came and cast in two lepta, which is a quadrans.


(43)

And He called His disciples to Him and said to them, Truly I say to you that this poor widow has cast in more than all those who were casting into the treasury,


(44)

For they all cast in out of their surplus, but she, out of her lack, has cast in all that she had, her whole living.
Matt 12:41-44
Those who gave out of their abundance did not touch the Lord's heart. However, the Lord was touched by the poor widow who cast in two small copper coins. He admired her for giving in such a way. It is very significant that after the Lord subdued all the opposers, He gave a warning concerning the scribes and appraised a poor widow in her loyalty. First, He warned His disciples to beware of the vain empty teachings of the scribes. Then He encouraged them to appreciate a widow's inward reality. He wanted them to look into the situation among God's people, not outwardly according to man's way, but inwardly according to a person's inward reality. Because He had such a view. He could appreciate the poor widow.
The Lord had a little meeting with His disciples, a meeting in which He spoke to them concerning the scribes and a widow. With the scribes there is emptiness, vanity; with the widow there is inward reality. We need to learn to appreciate reality and to beware of vanity. Someone may be an excellent speaker, eloquent and knowledgeable. However, his speaking may be empty. By contrast, someone else may be poor in his speaking, without eloquence or knowledge. Nevertheless, with this one there is inward reality toward God. This is the significance of the two incidents--the warning concerning the scribes and the appraising of the poor widow--being placed together at the end of chapter twelve.
Nothing proves a believer's inward reality more than the matter of money. The reason money proves a believer's inward reality is that in human life nothing is more tangible than money or material possessions. Your money and possessions test whether or not you have reality toward God.
Bible verses are taken from the Recovery Version of the Bible and Words of Ministry from Witness Lee, Life-study of Mark, pp. 335. Both are published by Living Stream Ministry, Anaheim, CA
You are free to share words of the Lord here. If you are joining don't forget to sign on the Mr. Mcklinky below with the link of your own post so I would be able to visit your posts and enjoy the Lord's words. You can also put the Mcklinky in your own post, just follow the instructions so you can get the code. Thanks for sharing along.