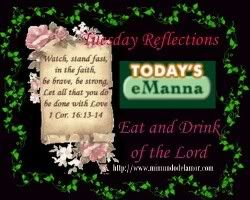 I have random posts every Tuesday, posting only what comes into mind. However, after the reflections on the happenings of our today's environment, I decided that I would post my

reflections on the word of the Lord

every Tuesday of the Week. To make this a double digest, I decided to make this a meme and would call it , "

Tuesday eManna

". To know what is Manna , know it

here

.
eManna for today:
I am crucified with Christ; and it is no longer I who live, but it is Christ who lives in me; and the life which I now live in the flesh I live in faith, the faith in the Son of God, who loved me and gave Himself up for me.




Gal. 2:20
Our inner eyes have to be opened. When Christ was crucified on the cross, God put our sins on Christ and crucified them on the cross. This is God's side of the work. Christ died for us and took our sins away. This occurred more than nineteen hundred years ago, and we believe it. Similarly, when Christ was crucified, God put us into Christ. Just as our sins were settled more than nineteen hundred years ago, our person was also dealt with at the same time. On the cross our sins were removed. On the cross our person was also dealt with. We must remember Romans 6:6: "Knowing this, that our old man has been crucified with Him." We do not have to hope to be crucified with Christ. We have been crucified with Him, forever and unchangeably crucified with Him. God has put us into Christ. When Christ died on the cross, we died on the cross as well.
If you take a piece of paper, write a few letters on it, and then tear the paper apart, you tear the letters apart as well. You are tearing the paper, but as the paper is torn, the letters are torn. He died that He might "taste death on behalf of everything" (Heb. 2:9). The whole old creation passed away with Him. You have been trying in vain to do good and to be a successful Christian for years. Now God has crucified you with Christ.
You have to believe in this truth. Your eyes need to be open to see that your sins were upon Christ and your person was also upon Christ. Your sins were on the cross, and your person was also on the cross. Your sins were taken away, and your person was also crucified. All this has been accomplished by Christ. Many people fail because they keep looking at themselves. Those who have faith should look at the cross and see what Christ has accomplished. God placed me in Christ. When Christ died, I also died!
Bible verses are taken from the Recovery Version of the Bible and Words of Ministry from Watchman Nee, Messages for Building Up New Believers, pp. 396-397. Both are published by Living Stream Ministry, Anaheim, CA.
You are free to share words of the Lord here. If you are joining don't forget to sign on the Mr. Mcklinky below with the link of your own post so I would be able to visit your posts and enjoy the Lord's words. You can also put the Mcklinky in your own post, just follow the instructions so you can get the code. Thanks for sharing along.