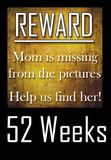 It's time for the challenge again as it's Thursday. It's fun that I decided to participate in this year-round challenge hosted by Carin of Forever In Blue Jeans. The goal of this challenge is for us moms to have at least one photo with the children once a week. We have always been behind the cameras. Now, it's time for us to show ourselves in front with the children or our family. Challenge yourself now. Join us here.
This was taken last weekend.. My little girl was trick or treating at our office with the other kids.. Got a chance to pose with her..
I always wanted her to be in pink as last year's costume was her being a
pink fairy
.. But she just loves
blue
.. What can I do?