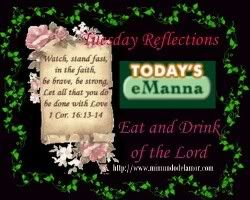 I have random posts every Tuesday, posting only what comes into mind. However,
after the reflections on the happenings of our today's environment, I decided
that I would post my reflections on the word of the Lord every Tuesday of the
Week. To make this a double digest, I decided to make this a meme and would call
it , "Tuesday eManna". To know what is Manna , know it here.
eManna for Today:
1 John 2:1 My little children, these things I write to you that you may not sin. And if anyone sins, we have an Advocate with the Father, Jesus Christ the Righteous;
Words of Ministry
After we are saved, we should sin no more. John 8 speaks of the Lord Jesus forgiving a woman who had committed adultery. He said to her then and there, "From now on sin no more" (v. 11). Once we are saved, we are charged by the Lord to sin no more! As saved ones, we surely should not continue in sin.
Since a Christian should not sin and should not continue in sins, is it then possible for a Christian not to sin? The answer is yes! It is possible for Christians not to sin because we have God's life within us. This life does not sin. It cannot tolerate any trace of sin. This life is as holy as God is holy. The life within us makes us very sensitive to sin. If we walk according to the sense of this life and if we live by this life, we will not sin.
However, it is possible for Christians to sin. We are still in the flesh. If we do not walk according to the Spirit and live in life, we can sin at any time. Galatians 6:1 says, "Brothers, even if a man is overtaken in some offense..." First John 2:1 says, "My little children...if anyone sins..." It is possible for Christians to be overtaken by sins. There is still the possibility of sinning. First John 1:8 says, "If we say that we do not have sin, we are deceiving ourselves." Verse 10 says, "If we say that we have not sinned, we make Him a liar." Hence, our experience shows us that it is possible for Christians to fall accidentally into sin.
Bible verses are taken from the Recovery Version of the Bible and Words of Ministry from Watchman Nee, Messages for Building Up New Believers, pp. 321-322. Both are published by
Living Stream Ministry
, Anaheim, CA