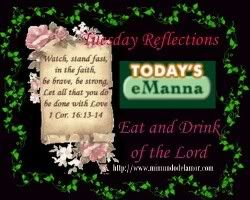 I have random posts every Tuesday, posting only what comes into mind. However, after the reflections on the happenings of our today's environment, I decided that I would post my

reflections on the word of the Lord

every Tuesday of the Week. To make this a double digest, I decided to make this a meme and would call it , "

Tuesday eManna

". To know what is Manna , know it

here

.
eManna for Today:
Acts 22:15
For you will be a witness to Him unto all men of the things which you have seen and heard.
1 John 4:14
And we have beheld and testify that the Father has sent the Son as the Savior of the world.
What is witnessing?

From [the above verses] we see that the basis of witnessing is what we have seen and heard. You cannot be a witness to what you have not seen with your own eyes or heard with your own ears. Paul saw something with his own eyes and heard something with his own ears. God charged him to be a witness of what he had seen with his own eyes and heard with his own ears. A person is a witness to what he has seen.
Thank God, you have believed in the Lord. You have met Him, believed in Him, received Him, and gained Him. You are saved. You have been delivered from sins, received forgiveness, and obtained peace. Now that you have believed in the Lord, what joy you possess. This joy is something which you did not have before. Formerly, how heavy was the load of sin upon you! But now, thank God, this load of sin is gone. You have seen and heard something. What should you do today? You should testify of your experience. This does not mean that you have to leave your job to be a preacher. It means that you should witness to your friends, relatives, and acquaintances of what you have seen and heard, and bring them to the Lord.
Bible verses are taken from the Recovery Version of the Bible and Words of Ministry, from Watchman Nee, Messages for Building Up New Believers, pp. 274. Both are published by Living Stream Ministry, Anaheim, CA.
You are free to share words of the Lord here. If you are joining don't forget to sign on the Mr. Mcklinky below with the link of your own post so I would be able to visit your posts and enjoy the Lord's words. You can also put the Mcklinky in your own post, just follow the instructions so you can get the code. Thanks for sharing along.