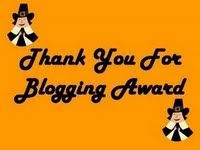 I received this great award from my sweet blogging friend
David Funk
. Thank you also for blogging my dear. Your blog is very interesting. You are a born script writer and director bundled into one. It's a pleasure to receive such award from you. Happy as I could be for this. Thanks , thanks..
Now I am passing this award to
ALL THOSE WHO ARE IN MY BLOG LISTS
. Your efforts and contribution into the blogosphere are much appreciated.
FEEL FREE TO GRAB THIS AND POST IT ON YOUR BLOGS
..
YOU ARE ALL AWARDED!!!